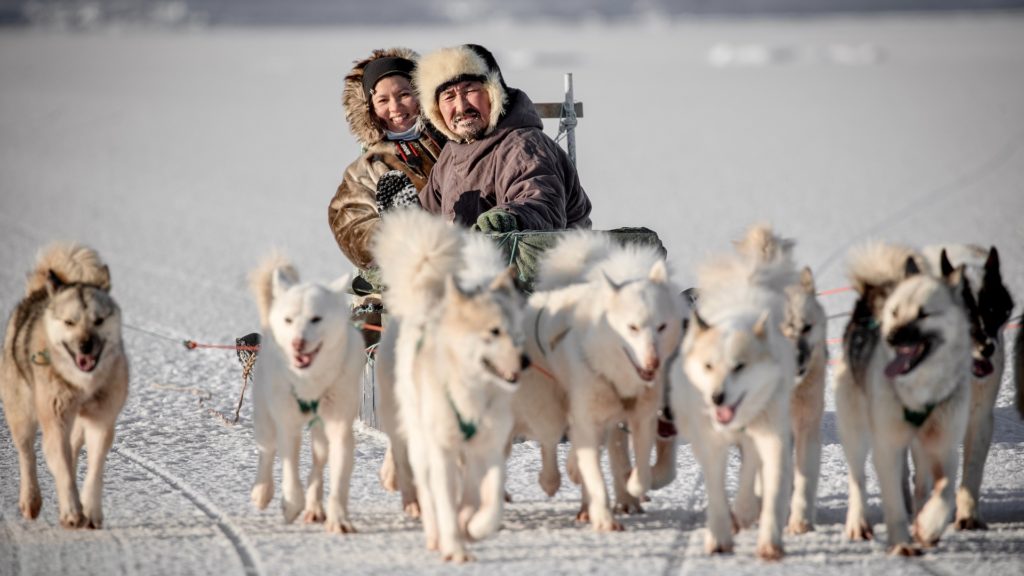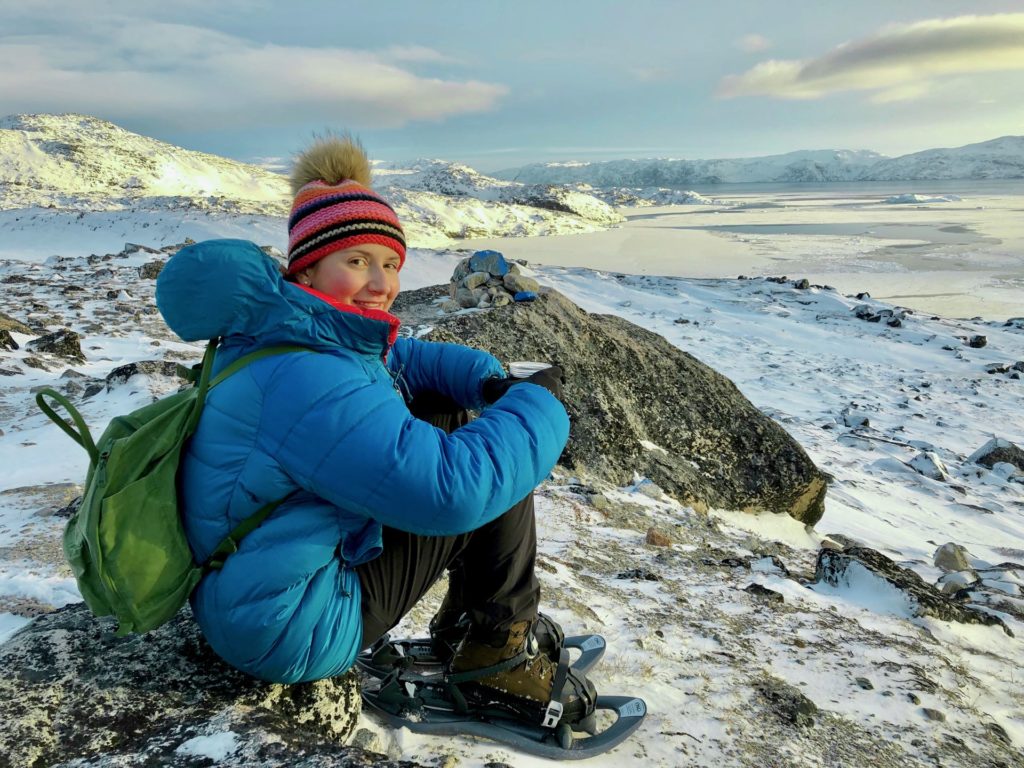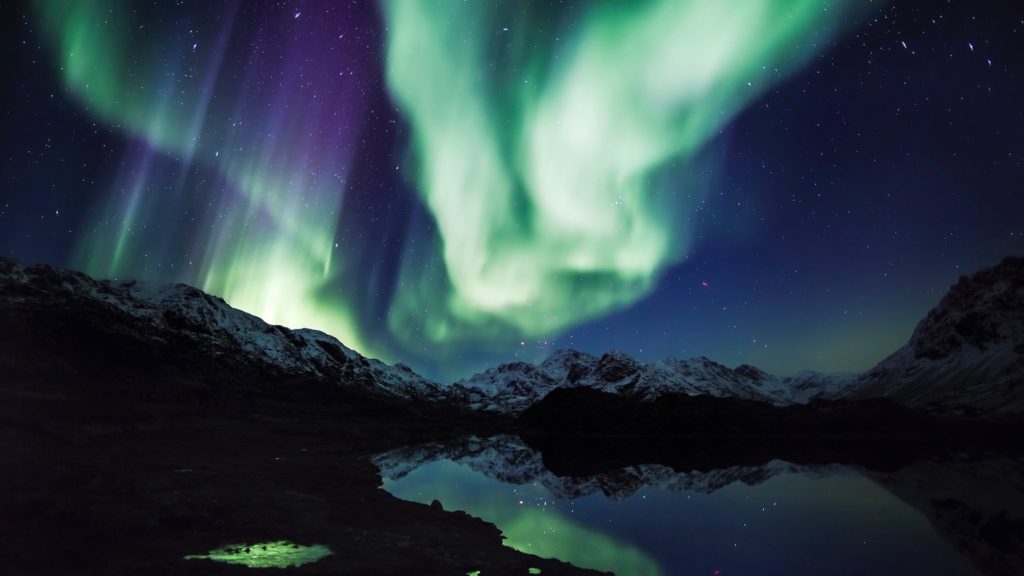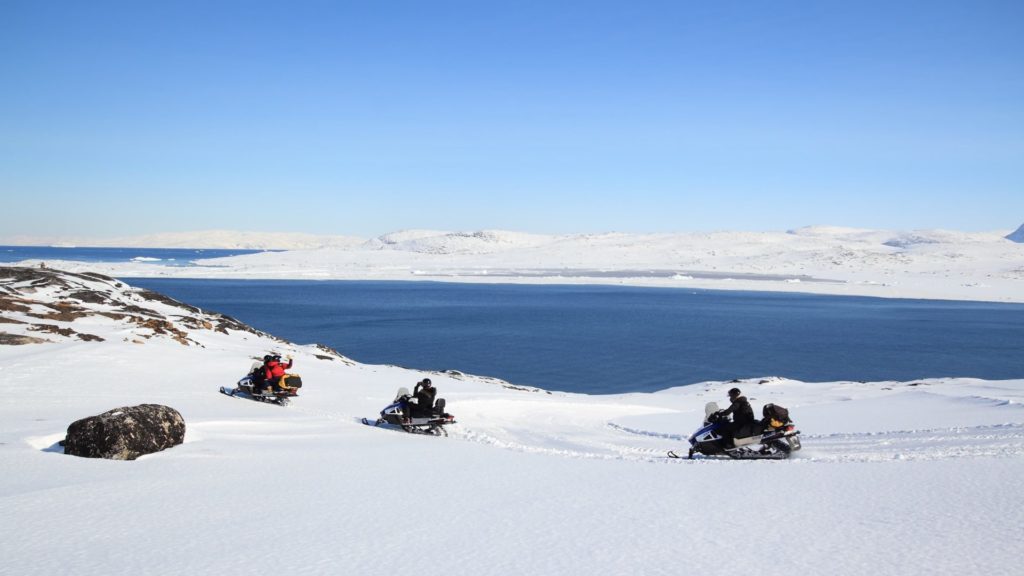 8 days extraordinary winter adventure
8 days of extra ordinary Arctic Winter adventure
Choosing this trip, you get to understand how life in Greenland is during Winter time. Trying the snow mobile and dog sledge. Sailing along the Ice Fjord and hiking to the UNESCO site – Sermermiut. Sleep in an iglo and taste the delicious Greenlandic food, when you stay the night in a settlement, where you have perfect conditions to see that northern light without any disturbing light pollution from the city. Further more you get an introduction to Ilulissat and Greenland by doing a city walk around Ilulissat.
Day to day program:
Accomodation: You have 5 nights in Ilulissat Guesthouse, 1 night in the small settlement Oqaatsut and 1 night in an Igloo. When staying the nights in the Iglo and settlement full board is included.
Day 1: Ilulissat – Briefing and city walk
Even before we land in Ilulissat, you will be able to see the dramatic landscape beneath, with gigantic icebergs far out into the horizon. Upon arrival take a taxi to Ilulissat Guesthouse, the blue one. As soon as you have settled in you will go out on your very first trip in Ilulissat.
We will take you on a historic city tour through Ilulissat. We walk past the old colonial harbour and to "brættet" where the local fishermen sell their daily catch, and not least, we will visit the old house of famous polar explorer Knud Rasmussen.
In the evening we will go on a Northern light trip using snow shoes. We depart from Ilulissat Guesthouse from where we hike to the UNESCO-area. Here we will hike out using snow shoes. If conditions allows, we will hike up the hills getting the beautiful view over the icefjord and and the pitch black sky. Here you will get some hot beverage while looking for that northern light – duration 2,5 hours.
Day 2: Ilulissat – Sermermiut hike & Icefjord Cruise
After breakfast we will hike up and into the Sermemiut Valley, which probably will be one of the most beautiful hikes you will ever experience. It is not hard, it is not long, but the views over Kangia Icefjord is a sight to behold! The place is on the UNESCO list of world heritage sites, and it is here where you can experience with your own eyes, the "emptying" of ice into the ocean from the Ice Cap. 10% of all ice coming from the ice cap, goes through this narrow straight. On our way to the fjord, we will come across very old Inuit settlements.
In the afternoon, it is time to see the huge ice bergs from the sea. At slow speed we will cruise through the Disko Bay littered with icebergs of all shapes and sizes. It gets cold at sea, so put on many layers of warm cloth – wollen hat and gloves.
Day 3: Ilulissat – Oqaatsut by snow mobile
After breakfast you leave for the small settlement, Oqaatsut, by snow mobile. You drive along the shore and if the sea ice is safe, you will do some of the trip on sea ice. The trip is around 20 km long. When you get to Oqaatsut you have a great program ahead of you.
First you will do a walk around the settlement, Oqaatsut, where only 27 people live all year round.
Then you will go indoor and have a nice lunch in the warm restaurant.
After lunch it is time to say hello to those amazing Greenlandic dogs and go on a trip on the dog sledge. It will take you around 2 hours.
When you get back, you will meet up in the restaurant, where you will learn more about the Greenlandic culture and life in the settlement. You will here be invited to try different Greenlandic specialties.
Dinner is the last part of the program today – now you can just relax in this charming old house, with a view of the harbour and bay area.
NB. if there is no sea ice, you will do the trip by boat.
Day 4: Oqaatsut – Ilulissat
Return on snow mobile to Ilulissat. The rest of the day you can relax or go to one of the museums or handy crafts shops.
Day 5 Day of leisure
EXTRA: If you want to try to do some ice fishing, today is the day. You can also visit the museums in Ilulissat, or just stroll around and enjoy the atmosphere of this charming small city.
Day 6 – Snow mobile to Iglo Lodge
Today we'll take you all the way out to a Winter scenery as you haven't experienced it before. Tall snowy hills surround you, and the northern light dances upon the dark sky in spectacular green and red colors. You will be spending a night the way the old inuits did, in proper igloos made out of snow.
We'll leave Ilulissat behind to take a ride through the snowy countryside on a snowmobile, during which there will be fantastic view of Ilulissat and the whole Disko Bay area. Upon arrival at Igloo Lodge you'll be welcomed with steaming warm coffee by the lodge's manager, who will introduce you to the schedule of the memorable next 24 hours.
In the afternoon you are going on a short snow shoe hike out to a viewpoint looking over the icefjord and ice cap.
Igloo Lodge is comprised of 5 spacious igloos, each with room for 2 persons, and complete with reindeer skin, warm winter sleeping bags on the beds, and a petroleum lamp on the night table. A focal point for everything is our cozily heated wooden country hut, where we enjoy the meals protected from the cold outside – which can be as low as minus 40° C. The temperature inside the igloos will be around freezing point to negative 5 degrees Celicius.
Day 7 – return from Iglo lodge
We will wake up in our own igloos and slowly everybody will get up and get breakfast before returning to Ilulissat by snow mobile.
You have no program this afternoon. You have time to relax and enjoy Ilulissat on your own. Maybe you want to do some of the hikes in the beautiful surroundings and you'll have time to buy souvenirs.
Day 8 – Departure
Remember to book your taxi the day before departure
What's included:
– 5 nights in Ilulissat Guesthouse
– 1 night in the settlement, Oqaatsut (Full board)
– 1 night in Iglo Lodge (Full board)
– Snow shoe hike to view point ice cap and ice cap
– Cultural City Walk in Ilulissat
– Guided hike to the Sermermiut Valley (UNESCO site)
– Icefiord Cruise
– Snow mobile trip to the settlement Oqaatsut or boat
– Dogsled trip in the backcountry of Oqaatsut
– Cultural talk and tasting og Greenlandic specialities
– Returning from Oqaatsut-Ilulissat by snownobile or boat
– Snow mobile out and return from the Iglo Lodge
– Northern light snow shoe hike
What's not included:
– Airline tickets
– Food when staying in guesthouse
– Taxi from and to the airport
NB – it is possible to add extra days in order to match flights. Please send us an email at info@ilulissatadventure.com to get an offer on a full package program.
Book the tour here
Searching Availability...