Ilulissat is the third largest town in Greenland with approximately 5.000 inhabitants and is located ca 350 km north of the Polar Circle. The town was officially established in 1741 but its history goes back to 4000 years beforepresent when the Sermermiut Valley became populated by the Saqqaq people. Today it isstill possible to see the remains from this old settlement placed at the mouth of the Ilulissat Icefjord.
Ilulissat has been famous for holding a number of dogs equal to the number of inhabitants in town and today it is still a place with a very high number of dogs – between 1500 – 2000.
Traditional life style is dependent on dogs for pulling the sledges across the ice when hunting or fishing and as a means for transport. Still today, the traditional ways of hunting and fishing are part of the lifestyle even though more modern alternatives like ATV's and scidoo's are also being used.
In the map on your right you can get an overview of the town and where thedifferent hotels, shops, museum, etc are located. There are a number of excellent hiking routes around Ilulissat and in the National Park.
In the map below you will see some of the reccommended routes marked in blue, yellow and red of varied distance. They all begin or end at the heliport.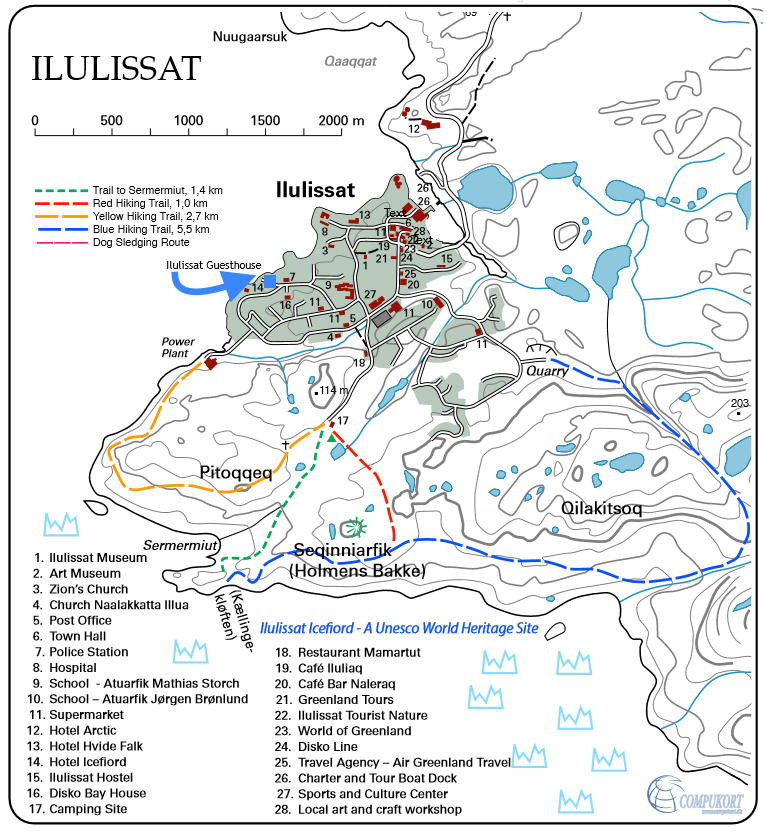 Around Ilulissat and in the Disko bay area you'll find a large variety of excursions. Choose between many of the guided tours or boat excursions; hike to the UNESCO site Sermermiut and Kangia Icefiord, visit one of the small settlements or go on whale safari. Please read more about the options here or visit or sister company Ilulissat Adventure, where you can buy the excursions directly – www.ilulissatadventure.com
If you want to do independent hikes, there are also many options. Please see the marked trails around Ilulissat in map to the right.
Hiking routes around Ilulissat