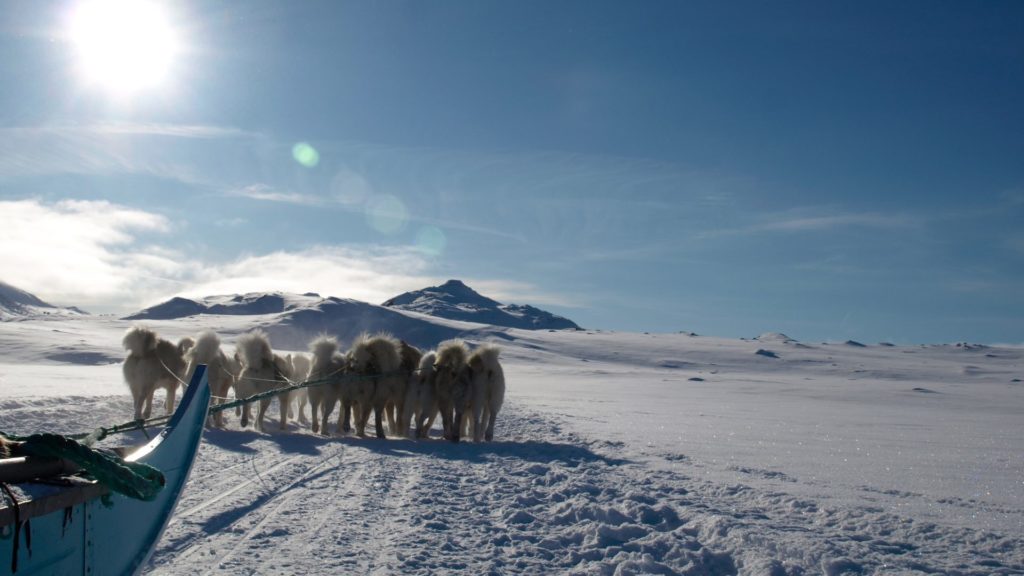 Dog Sled tours
One way of exploring the magnificent landscape and nature around Ilulissat is traveling the traditional way – by dog sledge. You will travel with experienced drivers who have been driving the sledges for years and still do, when going on long distances to fish in Winter time or to visit family in the settlements nearby. The tours take you through the mountainous landscape and passes by traditional fishing huts and settlements. In case you choose a longer dog sledge trip you will spend the night in the cabins still used by hunters and fishermen.
The dogs play a fundamental role in the Greenlandic culture and arrived together with some of the first inuits who settled in Greenland several thousand years ago. The Greenlandic dog is considered as one of the oldest dog breeds in the world.
Trips depend on your preferences and time available. We can arrange from 2 hours and up to a 10 day expedition to the glacier of Eqi Sermia 100 km north of Ilulissat.
Participants: Min 1 pers
Period: Jan – April
Duration: 2 hours – several days
Book the tour here
Searching Availability...
Please contact us for more info - info@ilulissatadventure.com or info@ilulissatguesthouse.com